So you can serve quick, delicious, nutrient-packed meals with none of the hassle.
Do you value healthy living and sustainable eating - but they often take a backseat? Here's my (simple) secret to preparing healthy meals for your family!
Are you plain ole tired of feeding your kids PB&J and Annie's Mac 'n Cheese for dinner every night?
Do you wish your kiddos were eating colorful, vibrant veggies instead of processed, microwaved meals?
If you're here, I think it's safe to assume that you're doggone tired of serving your kiddos food that's downright void of nutritious value.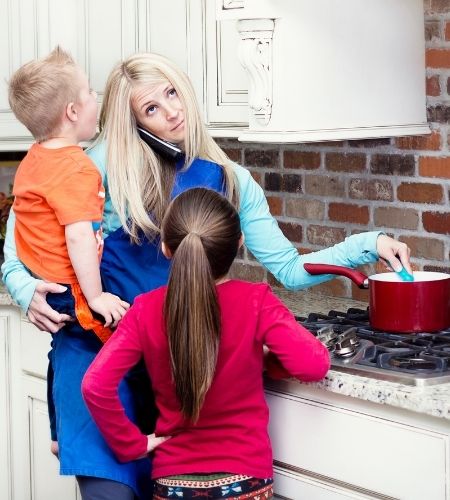 But making healthy dishes from scratch every morning, noon, and night is a full-time job.


Especially when your typical Tuesday goes something like this: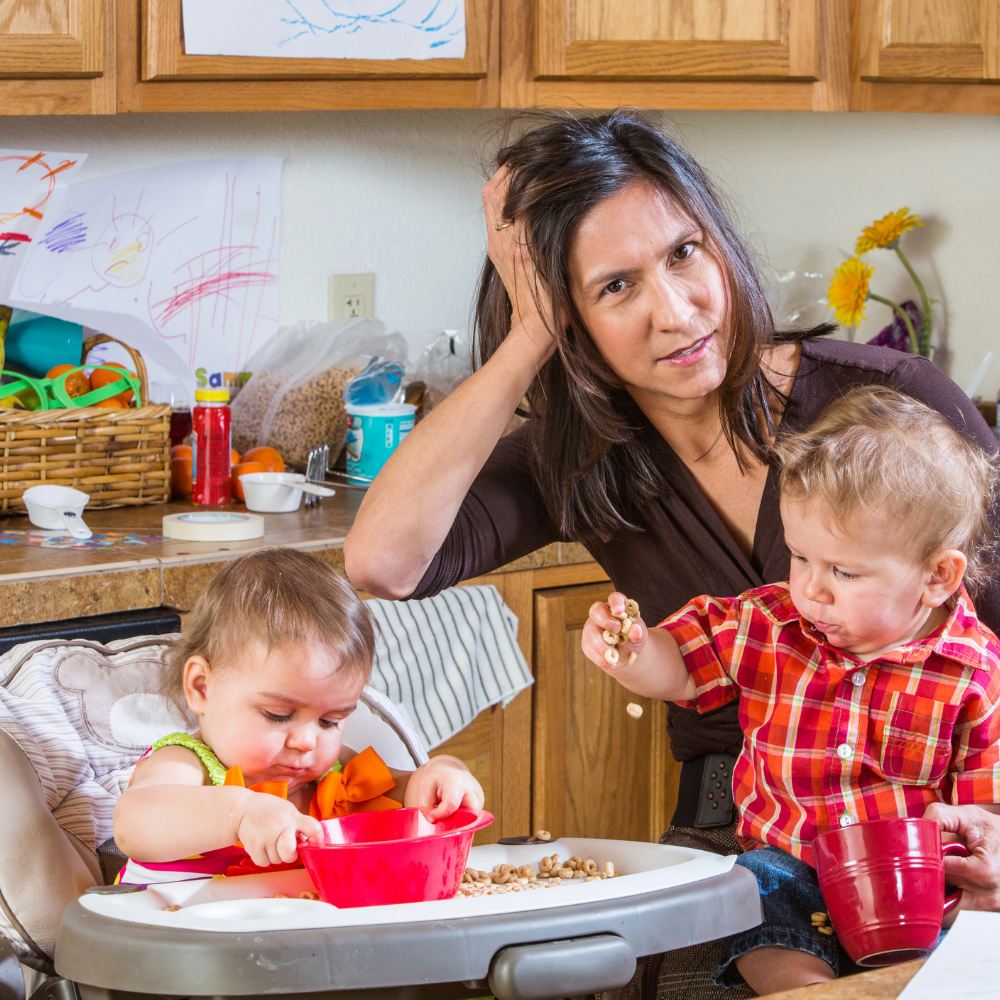 Your partner is working late (again).
Your 1st grader won't sit still for distance learning (again).
Your littlest is having a meltdown because you won't let them eat the TV remote batteries (again).
There are no clean forks and the dishwasher is broken. There may or may not be a dinosaur-shaped item clogging the drain.
You restart the dryer since your already-dried clothes are definitely wrinkled by now.
You wear your hair in a ponytail. Which is a fancy way of saying you keep it in the ponytail it's been in for the last week. Add a headband and you feel like royalty.
The dog is cooped up and shredding your favorite couch pillow to bits. You let him do it.
There's a mysterious brown smudge on the living room wall. You hope it's chocolate and move on.
You start referring to every room in your house as The Playroom.
You wonder if human evolution has failed you by providing you with only two hands and a need for sleep.
You have five unread emails from your boss because—real talk?—you just don't have time for a deadline today.
On these days, it's a win just to get your picky eater to have a bite of a blueberry muffin. At least it has some… fruit?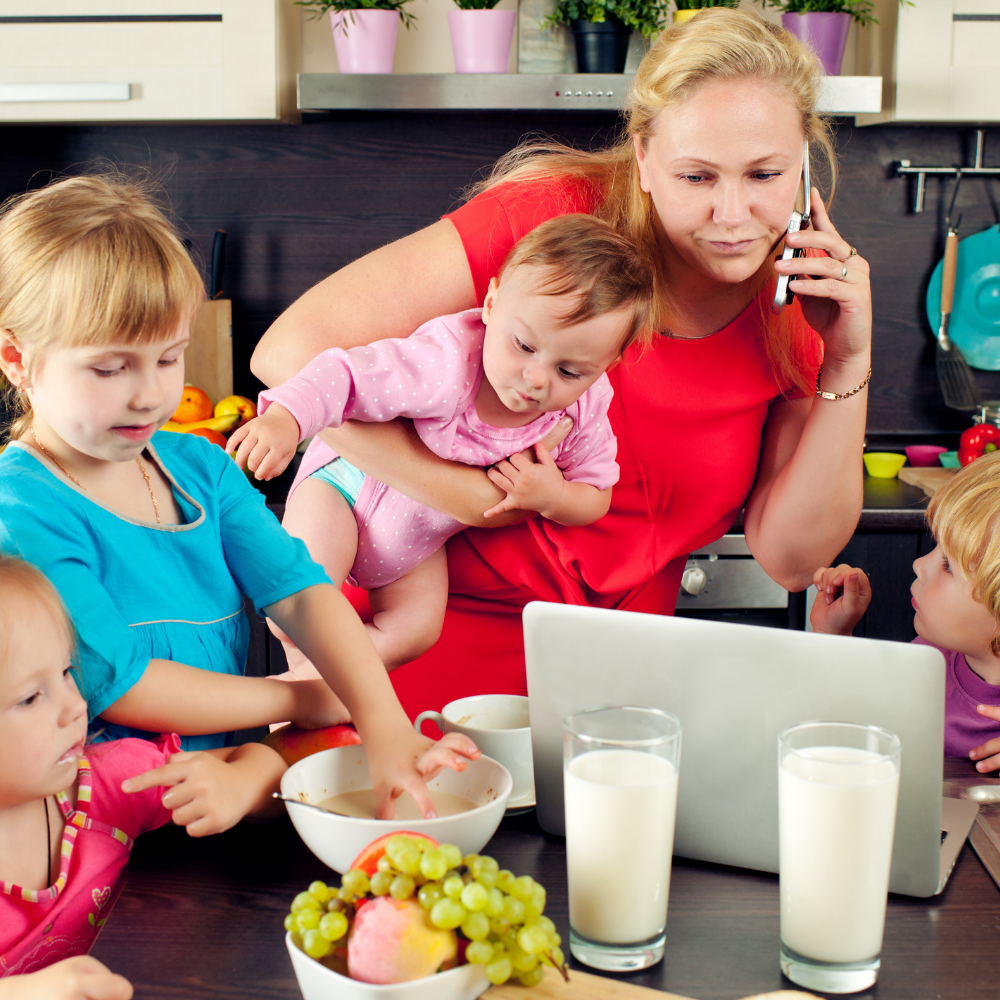 To say you're zonked by dinnertime is an understatement.
And the thought of starting a healthy, whole foods meal that requires a marinade and a preheated oven at 6:30 pm is laughable.
And also cry-able.
Defeated, you turn to the things that work: boxed dinners and microwave nuggets. They're easy and they make the kiddos jump for joy, and at this point in the day, those things = survival.
But you know most quick and easy meals get a big, round Cheerio-ZERO when it comes to nutritional value for your growing tribe.
What you really need is something fast and healthy that's mama-practical.
Something simple, hassle-free, and jam-packed with nutrients so you get the biggest bang for your time-and-energy buck. After all, you have precious little of that stuff to go around.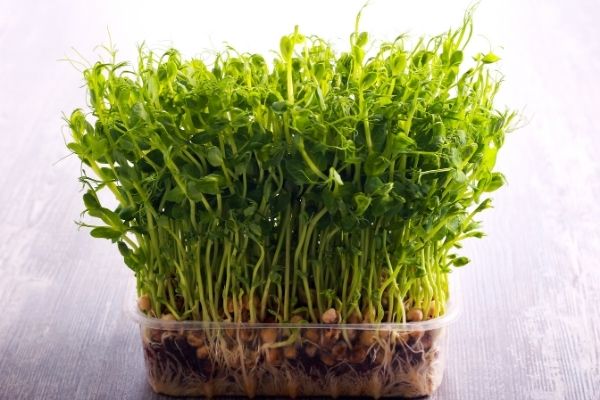 As a busy mama, you've tried it all to get your family on the healthy-eating bus. And I do mean it all.
Any of these ring a bell?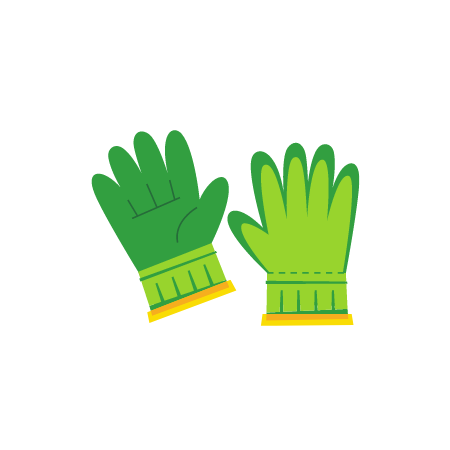 You tried starting a garden.
(It sounded like a dream to have a garden bounty every summer, didn't it?) The deer ate your veggies early. You're welcome, Bambi.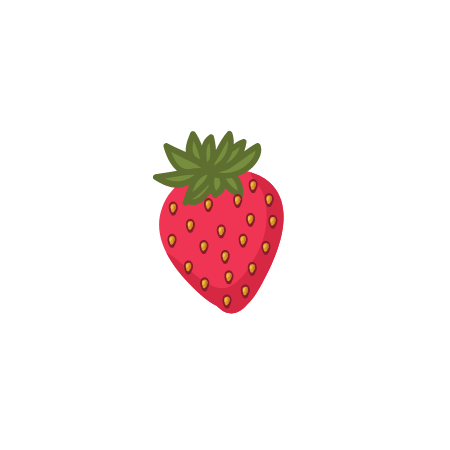 You tried growing strawberries on your porch.
It took 4 months to get 1 cup of berries. You used them in a cake.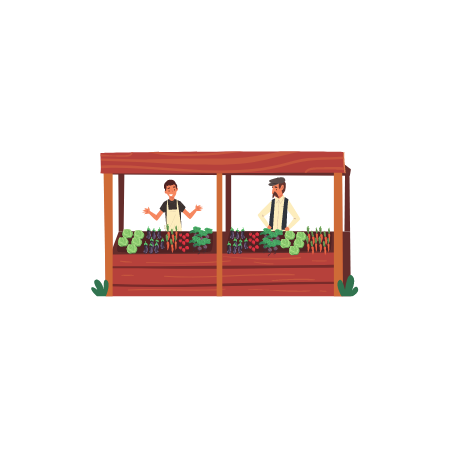 You went to the farmer's market.
Twice. Who can get everyone out the door by 9 am on a Saturday?
You bought a big, beautiful cookbook.
It has a silk ribbon for keeping track of recipes. It looks nice on your bookshelf.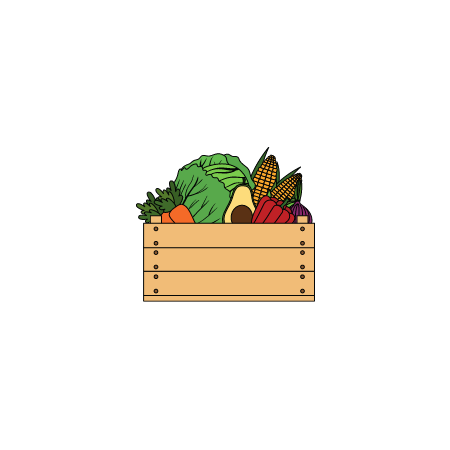 You bought a subscription to HelloFresh,
but your littlest needed shoes, and your bank account was looking weepy that month. It was nice feeling like Beyonce for a few days, but buh-bye, meal delivery service.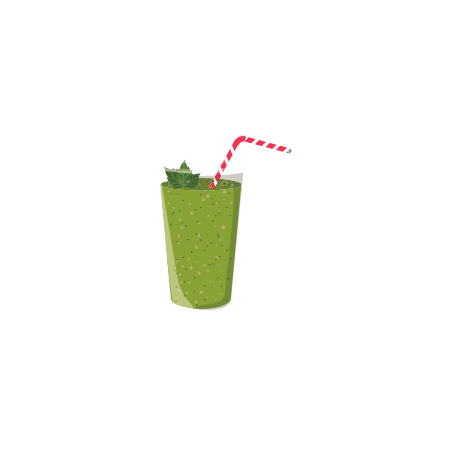 You tried smoothies for breakfast
but your kids started using the Magic Bullet as a toy rocket ship for their action figures. And you dare not take away the rocket ship.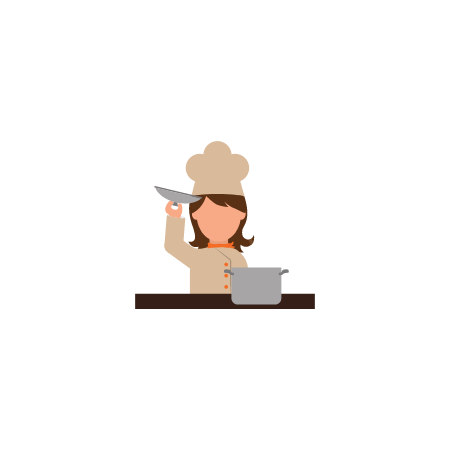 You let the kids play at the neighbor's one day and spent the day making a three-course dinner.
It took you 6 hours. You even busted out the wooden salad bowl and tongs. Your family said it was "pretty good."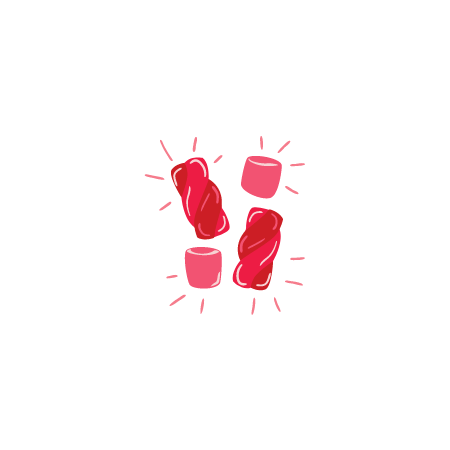 You became a great fabricator of the truth.
"Vitamin gummies? No, sweetie, look these are candy! Mmmm." You are not sorry.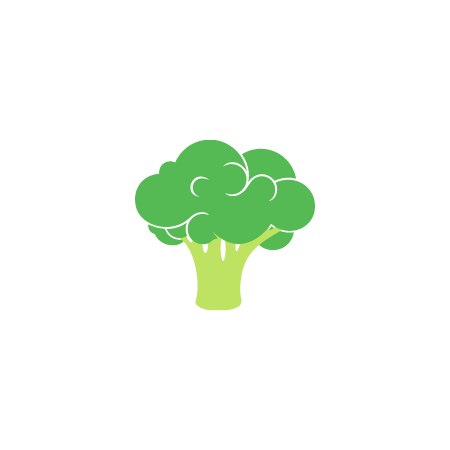 You made up a song about how broccoli is cool
to trick your kiddos into liking it. It worked for one meal. You still sing it anyway.
You've been meaning to make that one gorgeous, colorful veggie-powered dish for a year, but you can't bring yourself to lug out the food processor. Or the crockpot. Or the stick blender.
After all that, when your kiddos ask for chocolate chip pancakes in the morning, you make 'em. Who wouldn't?
It's hopeless. You've been overruled. Or so you think…
If you're wondering how I've crawled inside your head to read your sweet mama-thoughts, it's not because I'm a good guesser—although having an infant or three does make you pretty dang good at guessing what's the matter.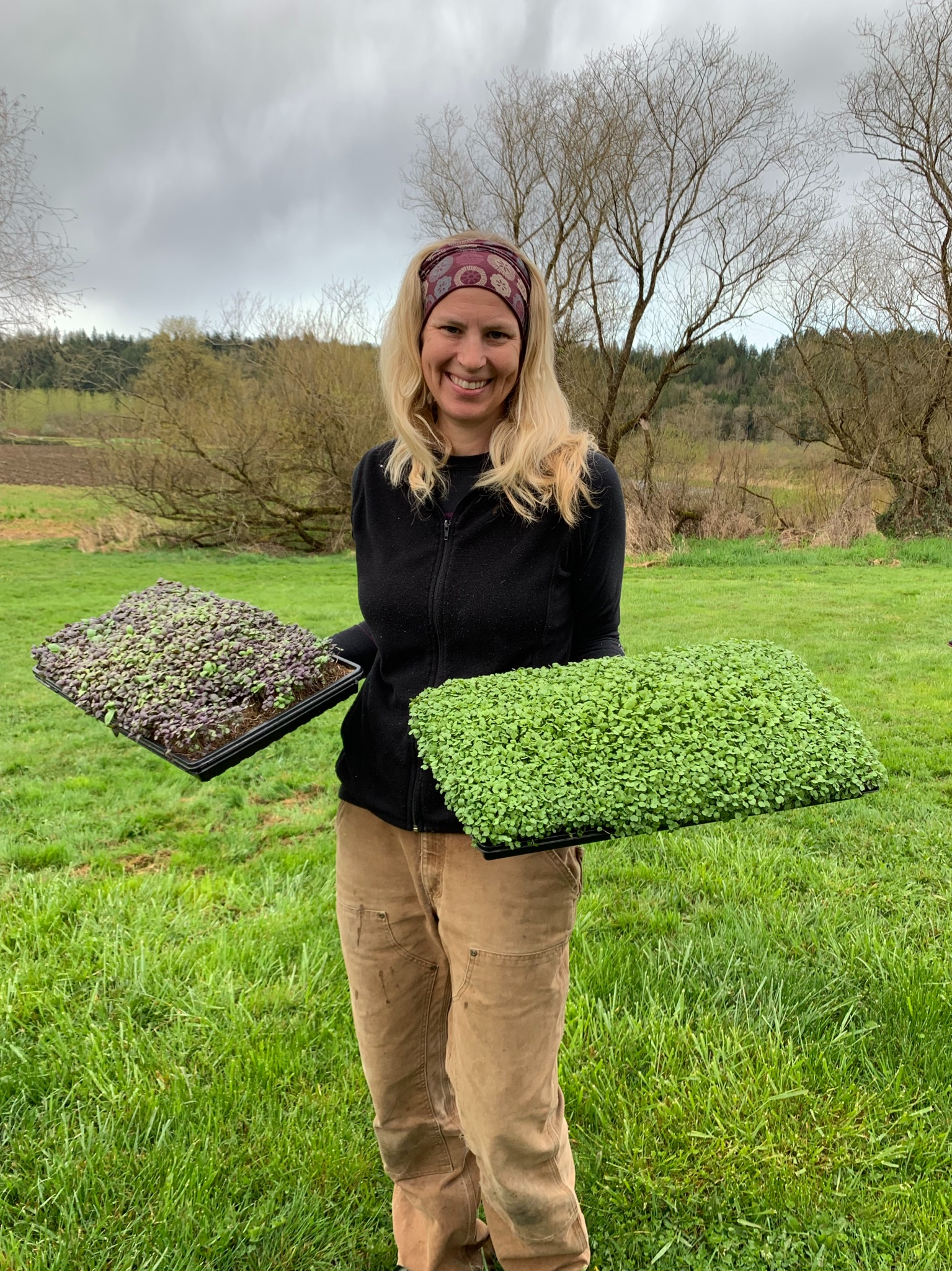 I know where you are because I was you.
I'm Laura, a nurse, microgreen farmer, and—above all else—a mom. I have three kids, all under the age of 6. I spend my days at home with them, and they are each little characters.
My oldest is obsessed with fishing, my middle one believes she can be whatever she wants to be (she has chosen a princess), and my littlest is a wild man, but also the sweetest little cuddle bug you ever knew.
As a fellow mama, you already know these little humans are my whole world.
And more than anything, I want to keep them happy and healthy. I want to feed them whole, delicious, nutritious meals that are good for them because I want them to have the best.
When my life turned into one big pony-tail-sporting, yoga-pants-wearing, there-aren't-enough-hours-in-the-day, never-ending mom party, I started having a terrible case of mom-guilt when I'd take shortcuts at mealtime.
I was just too tired and busy and sometimes downright fried to do anything else. And I felt bad about it.
But all of that changed when I made one small but mighty tweak to the way I prepare meals for my family.
Now my kiddos love eating healthy. And when they're too busy being kids to care about getting enough vitamins and minerals, I get to sneak greens into their dinners anyway.
And they don't whine about it.
Then I do a victorious mom-twirl in my sweatpants and consider the battle won. Mamas always win in the end.
Since I've cracked the easy healthy meal code, I've made it my mission to help mamas like YOU shed the mom-guilt and whip up meals the whole family will feel good eating. Morning, noon, and night.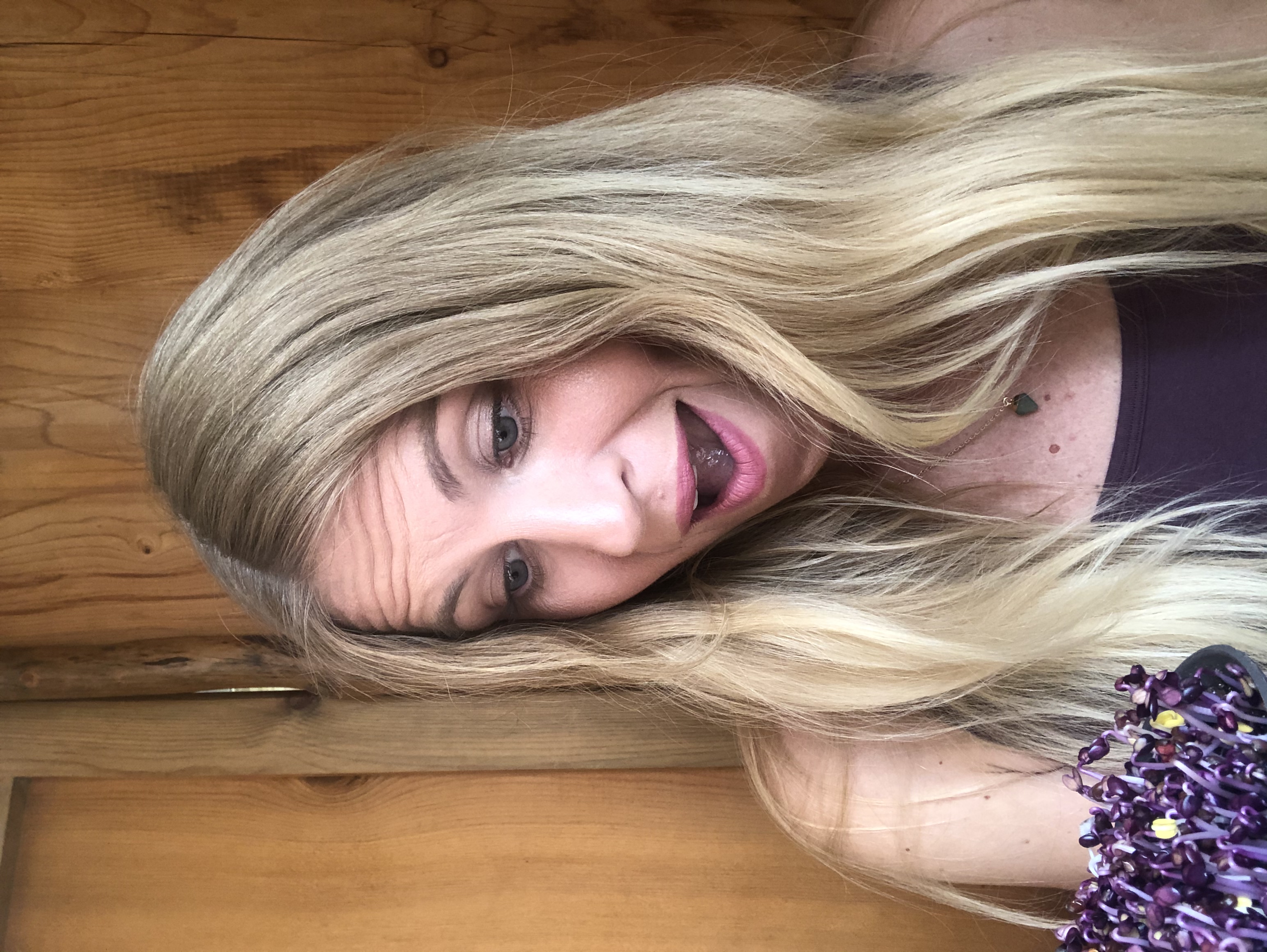 What you need is a grade-A mom hack.
A way to serve your family yummy, healthy meals without spending hours cooking from scratch, poking holes in your old milk jugs to turn them into garden boxes, lugging out the heavy KitchenAid gadgets, or spending the big bucks on HelloFresh or Blue Apron.
I'm so excited to introduce you to the busy-mom-proof short course that'll change the way you do mealtime.
The Busy Mom's Secret to Healthy Meals is a short, self-paced digital course that'll teach you everything you need to know to grow, harvest, and cook with microgreens so you can boost your family's health in a big way without bothering with all the bells and whistles.
In this course, you'll learn:
How to up the nutritious factor on any meal so you can transform even your favorite go-to's into nutrient-dense dishes. We're talking big nutrient boost for breakfast, lunch, dinners, and snacks.
How to simplify the healthy-eating process so you can stop feeling guilty about not being an executive chef and start finding simple ways to get your kiddos the nutrients they deserve.
How to make healthy choices fun for the whole family. (Yes even your picky eater). So eating healthy is less of a mom-centered pipe dream and more of a fun-filled, whole-family affair.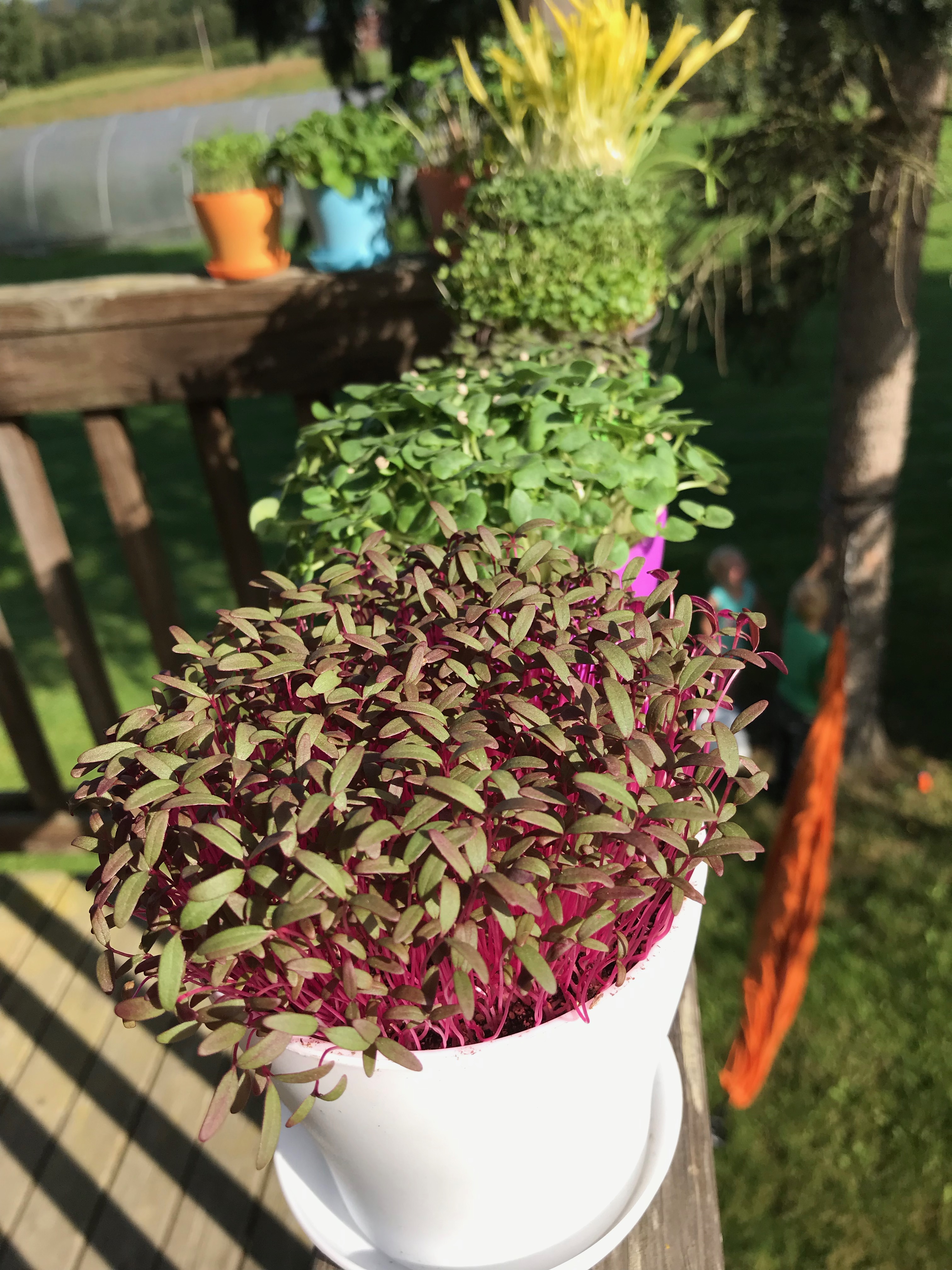 Here's a sneak peek inside!
Lesson 1: Why microgreens are the health boost you need.
You've tried it all, but you haven't tried microgreens. These little, tiny greens deliver big nutrients to your family. (Most moms are surprised to know they're healthier than normal veggies!). Learn why microgreens are the nutrient-dense, kid-friendly secret weapon you've been waiting for.
Lesson 2: How to grow microgreens at home.
It's beyond easy. No fuss, no green-thumb, and no pre-tilled garden required.
Growing microgreens at home each week takes just minutes a day. Now that's something us moms call a miracle.
Lesson 3: How to use microgreens to level-up the nutritious value in all your favorite meals.
Add a nutritious component to the meals you're already making. Yup, that's right, microgreens are a healthy addition to the breakfast, lunch, and dinner dishes you've already got down pat.
No re-inventing the wheel here. You can use microgreen to boost your family's health without having to add a single cookbook to your collection.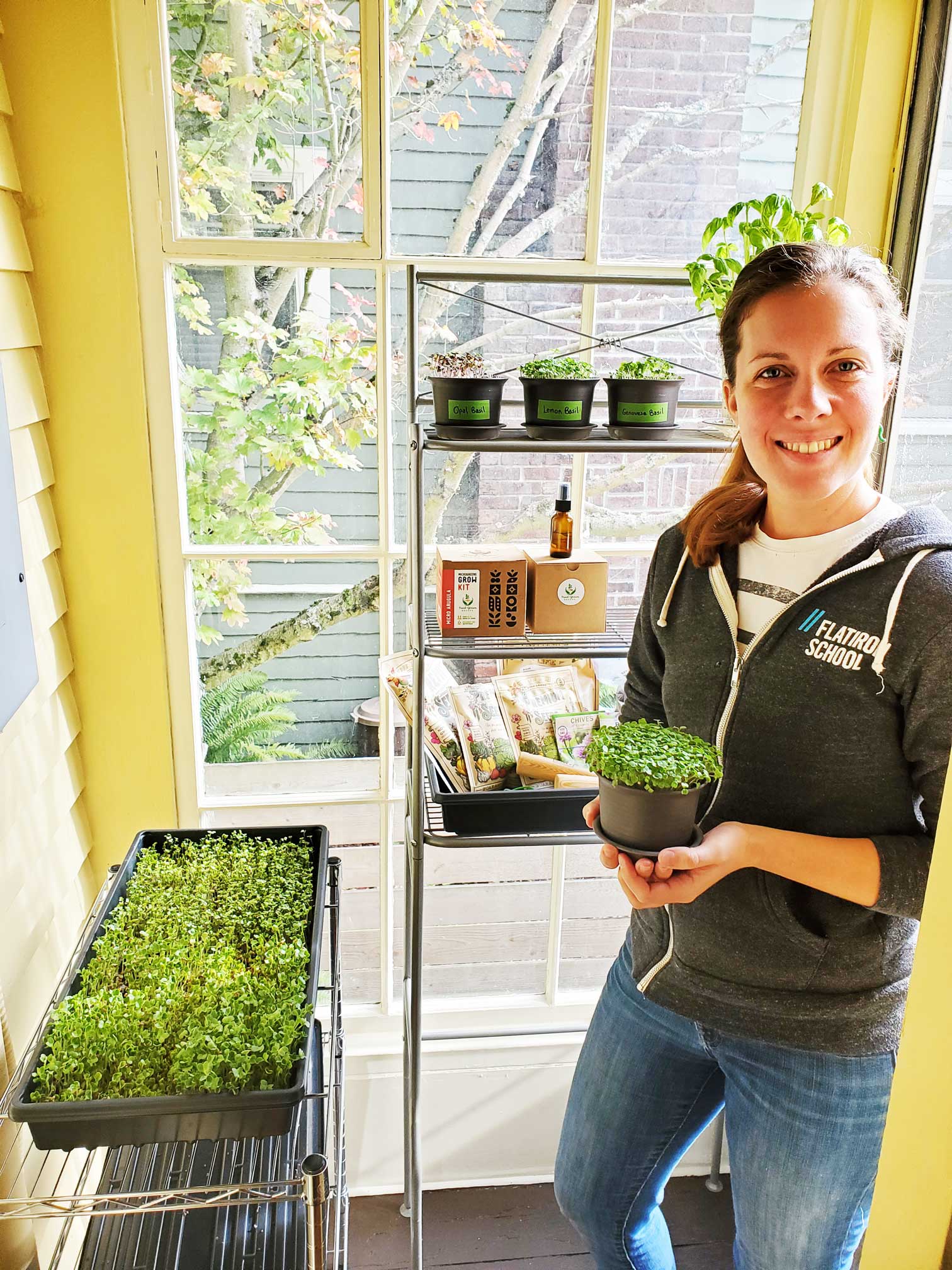 The perfect way to easily add greens to our meals! Laura's course taught me how fun and quick it is to grow microgreens at home.
''I have always struggled with finding ways to incorporate more fresh vegetables into my diet in a consistent way. They often ended up all shrivelled in a dark corner of the fridge, and I'd just whip up another PB&J sandwich. 
But now - one thing that is sure to NEVER end up that way is my fresh microgreens! I add them everywhere, they are so easy to add to any dish and they're absolutely delicious. My kitchen feels like there's something missing if I don't have any on hand. Thanks to Laura's course, I know exactly how to grow my own successfully, and I don't have to rely on lesser-quality store-bought microgreens. 
I was a little intimidated to grow them myself (I do not have a green thumb, at all!), but the course taught me how simple and fun it is to grow your own microgreens. I'm so happy I did, I love checking in on my little greens first thing in the morning! This is a healthy habit I will stick with long-term.''
- Katrina Reinsdorff, Seattle
Got a few more questions? I've got answers.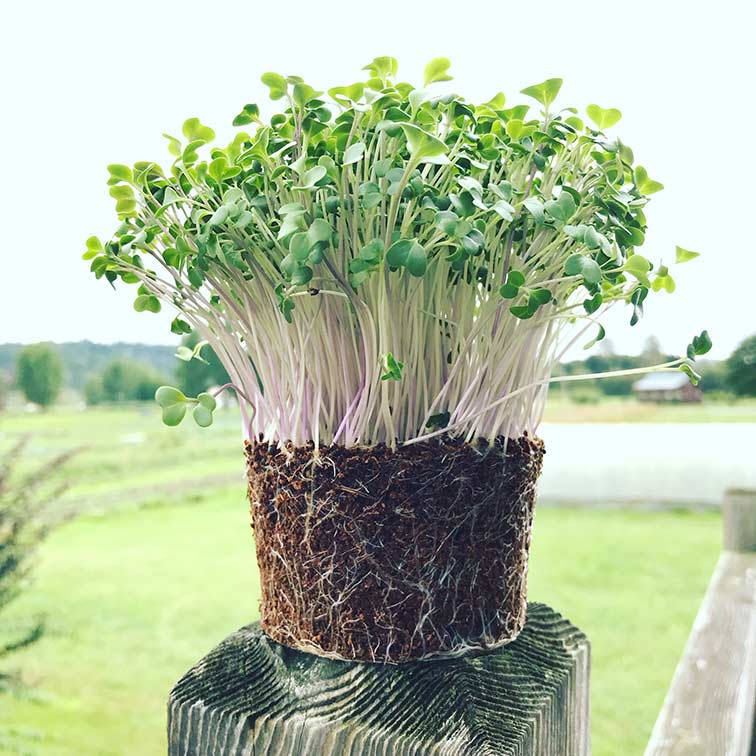 What are microgreens exactly?
Microgreens are young veggie greens harvested just after the leaves develop. The term microgreen isn't specific to any one vegetable plant.
They're incredibly versatile greens that can enhance flavor profiles, add a burst of color, and get nutrients into those kiddos. Cook with them or simply toss a handful on top of your dinners. The sky's the limit here!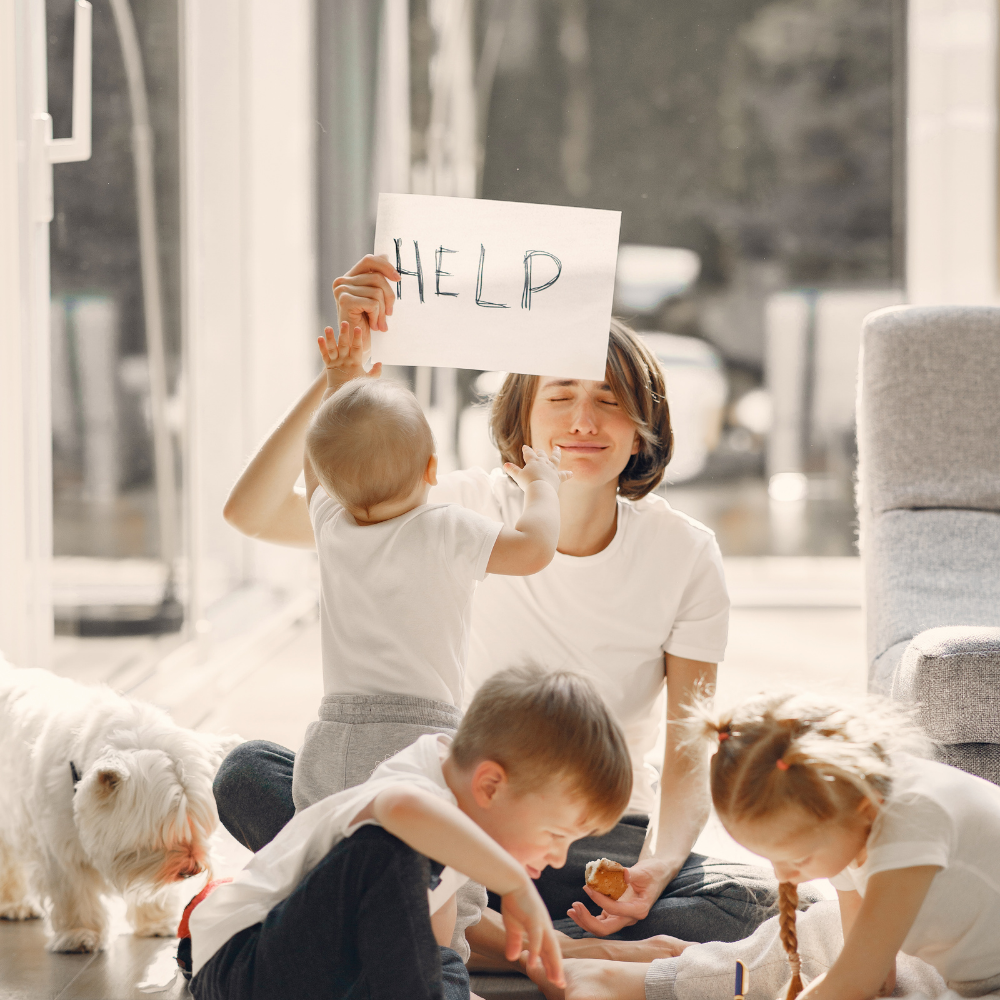 What if I don't have time to take on another project right now?
You're in luck. I know you're busier than busy. And I know you don't have time to invest in a big, time-consuming course that'll take weeks to complete and that'll probably sit in your inbox unfinished until your kids graduate college.
You can complete this mini-course in about an hour. It's perfect for a nighttime wind-down or early-morning companion before the kids get up.
And if you don't have one full hour, the course is digestible in small chunks!
Each video is roughly the length of Daniel Tiger episode. You can learn a whole new way to add nutrients to your meals in the time it takes your kiddos to start squirming and asking for snacks.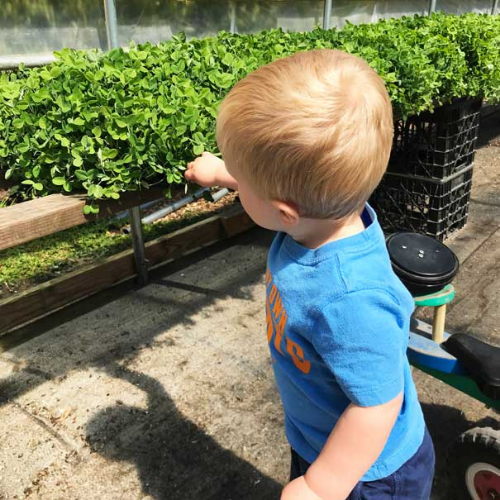 What if I'm not sure my kids will eat microgreens?
I never thought my kids would eat microgreens either. But growing, caring for, harvesting, and cooking with greens has a way of making your kiddos feel good about eating them.
Microgreens are a great option for picky eaters because they take the ick factor out of dinnertime greens.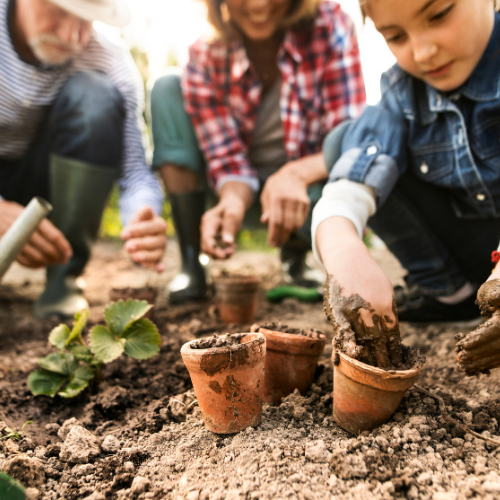 What if I don't have a green thumb?
No green-thumb required here! And I mean that. Microgreens are easy to grow and hard to kill. So they're perfect for beginners and they're rather child-proof, too.
What do microgreens taste like?
Microgreens come in a variety of taste profiles. Some are spicy and peppery, some sweet, nutty, earthy, and herb-like. They're fabulous complements to any dish.
What if I don't have an outdoor yard?
Microgreens can be grown anywhere there's a bit of light. You can grow them in an apartment, shed, or right in your living or kitchen. Windowsills, porch railings, or doorsteps are also great places for growing your greens.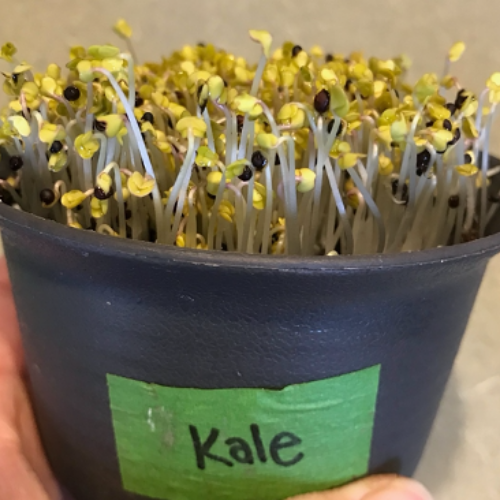 How long does it take to grow microgreens?
Microgreens go from seed to harvest-ready shoots in about a week or two. No more planting in April and waiting for a usable garden harvest in late August. Microgreens are quick and easy.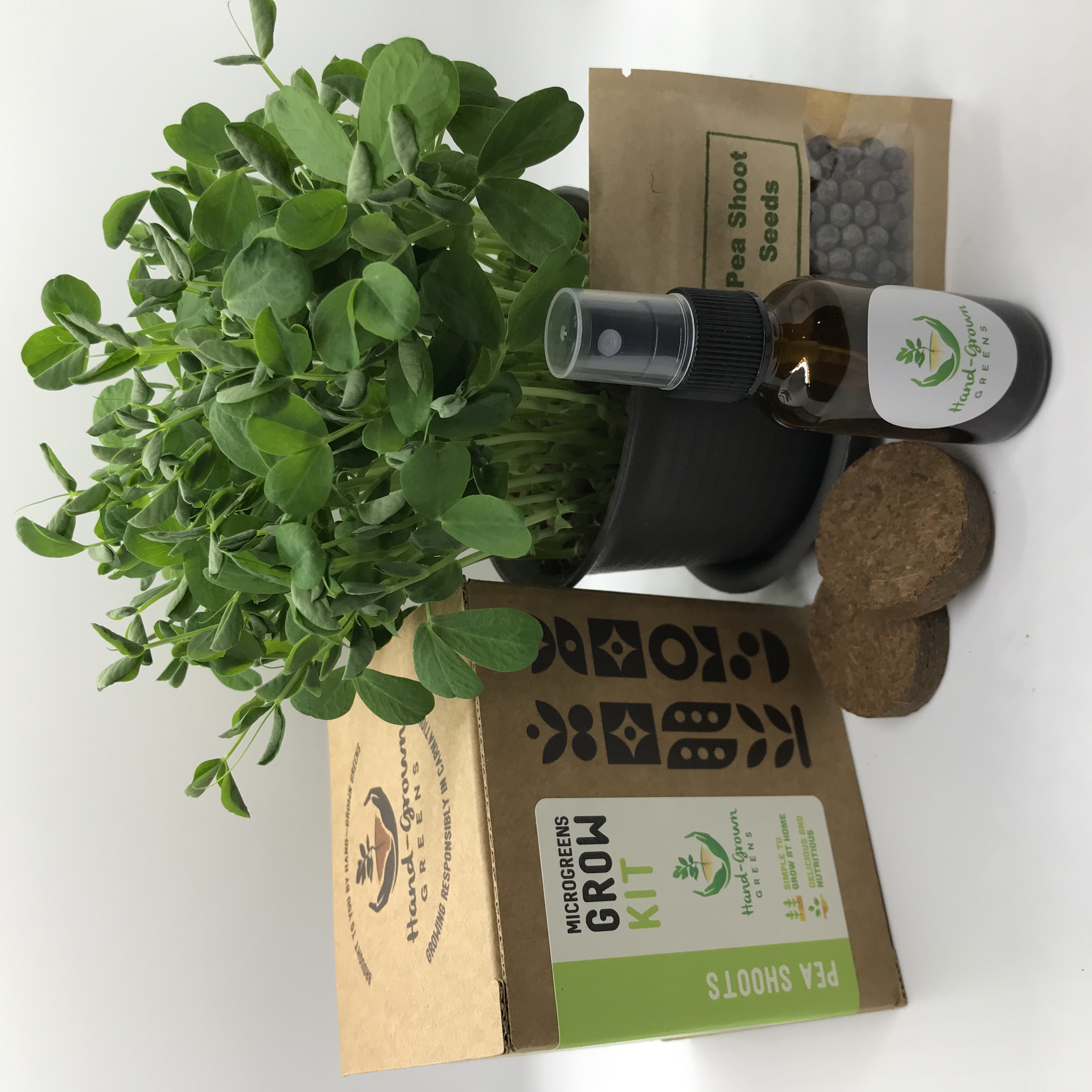 Does it cost a lot to get started?
Other healthy DIY options and organic choices get real pricey real quick. The farmer's market especially. Even taking the family to a U-Pick berry farm will cost yah.
But there are no start-up costs to growing microgreen besides a simple grow kit. If you're on a budget, microgreens are perfect for you.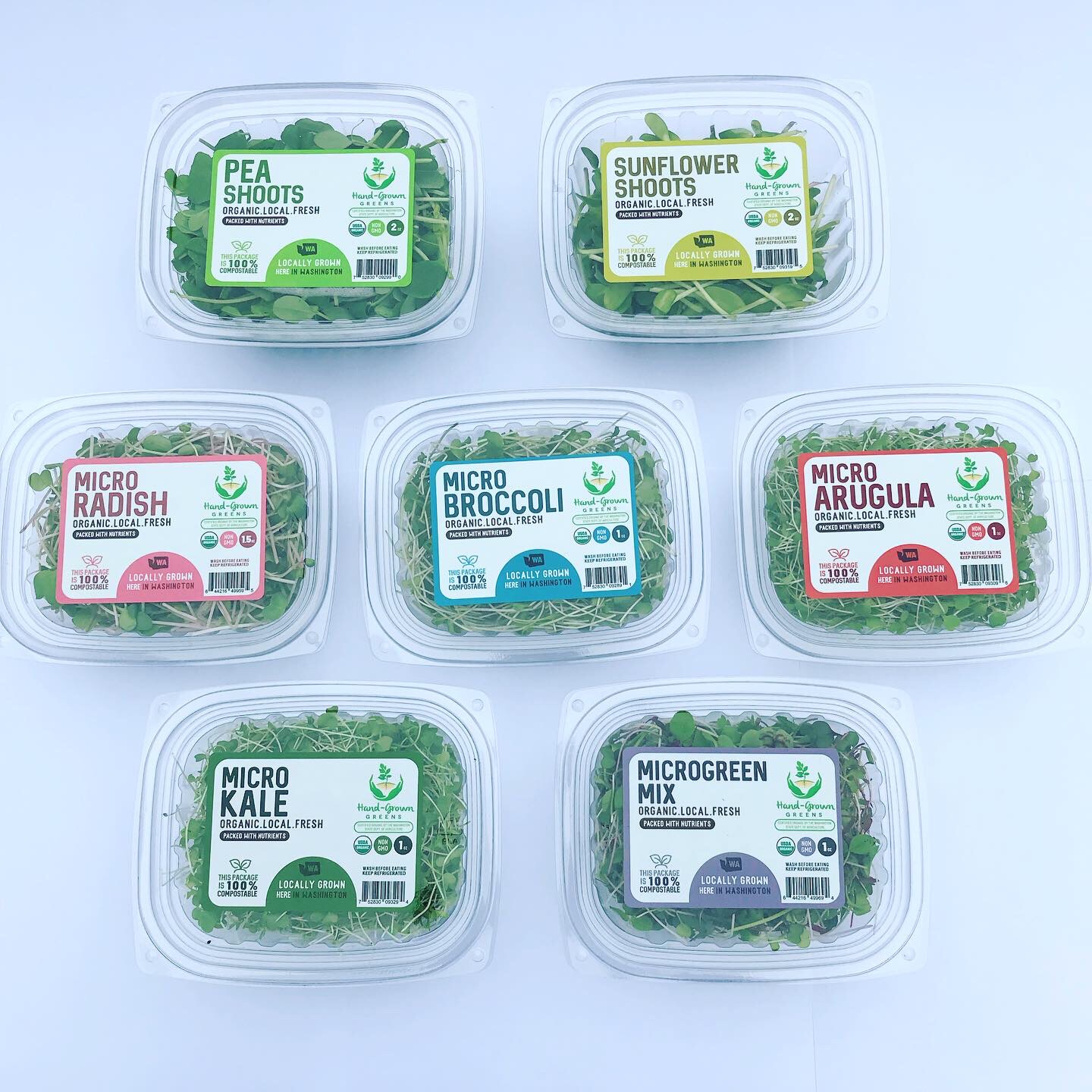 What type of microgreens can I grow?
SO many kinds! You can grow beet varieties, kale varieties, radish varieties, broccoli, arugula, carrots, cabbage, mustard, watercress, fennel, celery.
...Shall I continue?
Dill varieties, leek varieties, basil varieties, scallion, cilantro. You can grow 'em all!
It's been a while since you've been given a gift, hasn't it? Well, I've got a surprise for you! Who doesn't love a good bonus? Or THREE?
Listen, I'm a mama, too. And I know that you want to get all the value out of your purchase.
So I've created FOUR free bonuses that you'll get when you purchase The Busy Mom's Secret to Healthy Meals today.
That's like buying a pair of pants for your kiddos and getting three matching tops for F-R-E-E. Bonuses = happy mamas.
You're gonna love 'em!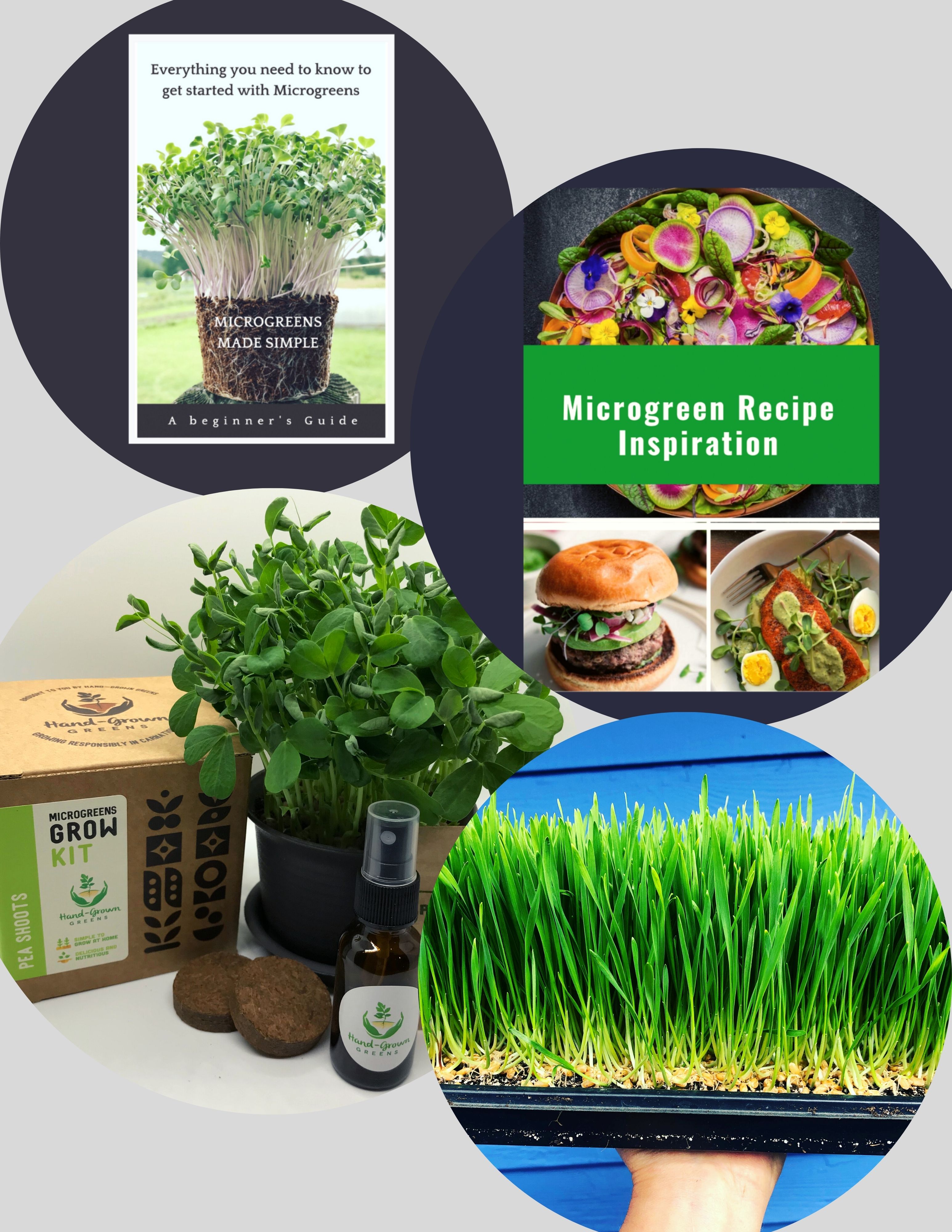 Bonus #1: Microgreens Made Simple Ebook ($15.99 value)
Indulge in this complete e-book to learn everything you need to know about microgreens. From the grow-pot to the dinner table.
Bonus #2: Microgreens Recipe Inspiration Guide ($9.99 value)
You'll walk away with 30 brand new ideas for how to use your new microgreens in meals. That's an entire month's worth of nutrient-boosting meal ideas done for you.
Bonus #3: 20% off a DIY grow kit ($3.40 saved per kit)
If you need a grow kit to get started, you'll get 20% off your first kit. This means getting started is more affordable than ever.
Bonus #4: Boost your Immunity with Wheatgrass mini-course (value $19.99)
Everything you need to know to grow & juice wheatgrass at home!
And—because you should never pay for something that doesn't get you the results you want—your purchase is backed with a 30-day money-back guarantee.
I mean it when I say that I want this to be the solution you've been waiting for.
I want you to have that long sigh of relief when your kids are excited to grow greens and eat 'em, too.
I want you to feel like a magician when you add greens to your family's meals and they don't even make faces at you.
Thirty days is enough time to grow, clip, and use your first TWO rounds of microgreens. So take your time, watch the course videos, and give it your honest go!
If you don't love growing and adding your homegrown microgreens to your meals and snacks, shoot me an email and I'll refund your purchase no questions asked. Easy peasy.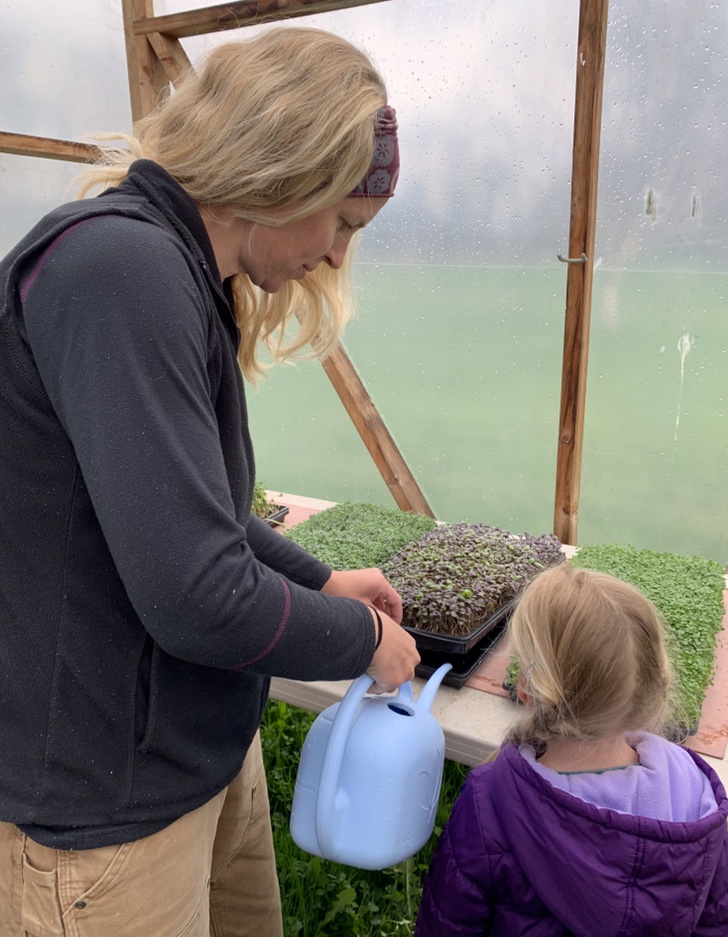 Let's get you started, shall we? Buy Now (and get all the bonuses!)
The Busy Mom's Secret to Healthy Meals is a course I plan to expand and grow. (Psst… between you and me, I'm working on a much bigger microgreens course! Eek!).
In the spirit of full disclosure: Doors to The Busy Mom's Secret to Healthy Meals mini-course will close soon!
And I'm honestly not sure when they'll open again. But I suspect if the doors open again the course price will go up and bonuses will be different. I'm only telling you this so you don't make the mistake of waiting around for next time. Because there might not be a next time for this incredible little offer.
Don't wait another one million months to supercharge your family's meals. Don't wait for the day when you miraculously have 6 hours to prep and cook three meals a day. Don't sit with that pesky mom guilt for another second.
Get The Busy Mom's Secret to Healthy Meals today. And get to supercharging your meals the easy way.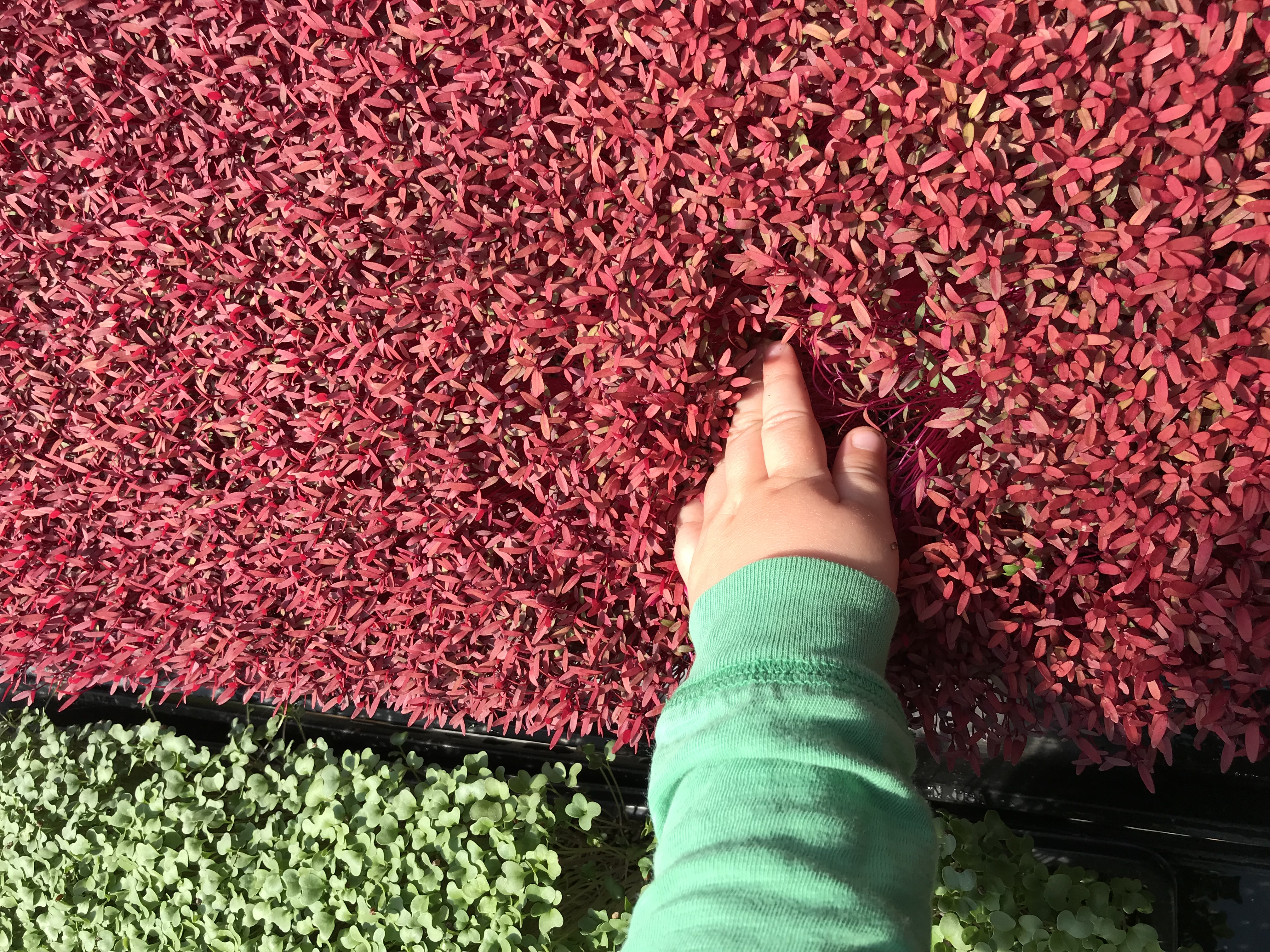 Just a few short years ago, I was exactly where you are. I was burnt out, had kids tugging at my pant legs all day long, and couldn't bring myself to shampoo my hair let alone chop, prep, cook, and clean up after every meal.
After spending over 10 years as a nurse, I saw first-hand what a lifetime of unhealthy eating habits can do to a person. And it's shocking. My patients suffered everything from diabetes and obesity to heart disease and cancer.
When I had my kids, I wanted to give them a head start. I wanted to strengthen them with good, nutritious meals and teach them about whole foods early so they'd grow into happy, eco-friendly, health-conscious adults.
And microgreens were my very first step into showing my children that eating healthy is so much more than pinching your nose and eating broccoli because mom says so.Eating healthy is about growing, caring for, and cooking things that come from the earth.
But going all-in on a garden or farm when you're a busy mom is as unrealistic as wearing a white linen blouse around a ketchup-flinging toddler.
When I found microgreens, my life became 10x easier.
My days went from stressed to the max and guilt-ridden to refreshed and nutrient-packed. All by growing little green shoots with my kiddos in my spare (and very few) moments.
My biggest wish for you, fellow mama? Is to have an abundance of healthy, happy days with your tribe—no matter how busy you are.
I know scrolling is a workout and I'm not here to make you do more work.




So here's a reminder of all the goodies you'll get when you join The Busy Mom's Secret to Healthy Meals today:
The Busy Mom's Secret to Healthy Meals mini-course ($97 value)
Which comes with three video lessons that'll teach you how to love, grow, and use microgreens in your daily meals. So you can up the nutrient levels in every dish and get your family the nutrients they deserve.
Bonus #1: Microgreens Made Simple Ebook ($15.99 value)
Indulge in this complete e-book to learn everything you need to know about microgreens. From the grow-pot to the dinner table.
Bonus #2: Microgreens Recipe Inspiration Guide ($9.99 value)
You'll walk away with 30 brand new ideas for how to use your new microgreens in meals. That's an entire month's worth of nutrient-boosting meal ideas done for you.
Bonus #3: 20% off a DIY grow kit ($3.40 saved per kit)
If you need a grow kit to get started, you'll get 20% off your first kit. This means getting started is more affordable than ever.
Bonus #4: Boost your Immunity with Wheatgrass mini-course ($19.99 value)
Everything you need to know to grow & juice wheatgrass at home!
This package includes $120 worth of microgreen growing knowledge, how-tos, recipes, and family fun for just $47.
That's a whole new simple, easy way to get your family the nutrients they deserve for the price of a family trip to the pizza parlor or a swing by Starbucks.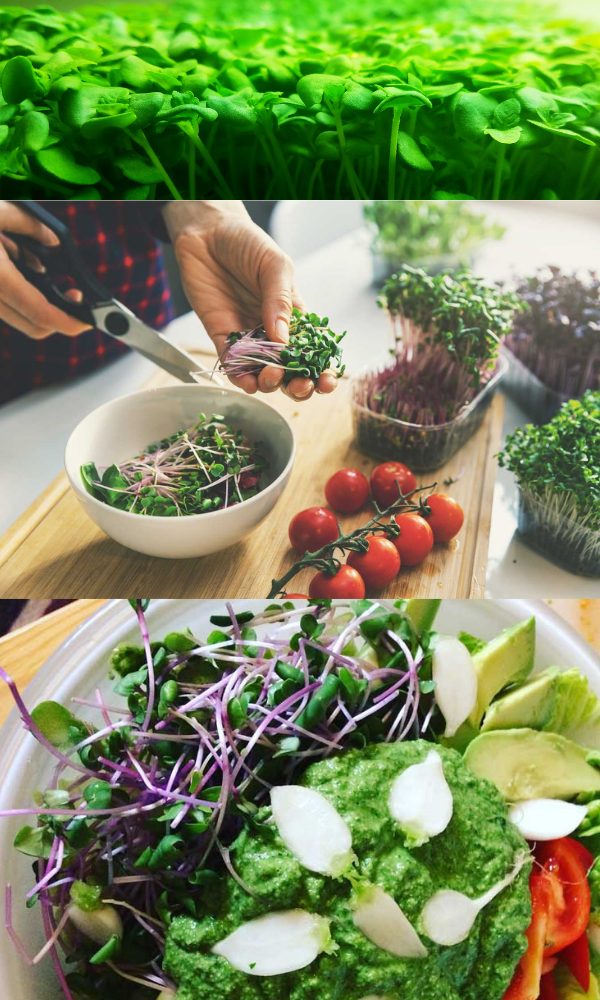 Are you stoked, mama?
Can you imagine the big grin you'll have when you serve up a healthy meal and your kiddos gobble it up?
Can you imagine how proud you'll be when you see your little ones caring for little greens?
Can you imagine how good you'll sleep knowing you've supercharged your family's health with microgreens?
Get The Busy Mom's Secret to Healthy Meals today and join the hundreds of other moms mom-hacking their way to healthy, delicious meals without all the fuss.
'Cause who has time for fuss?
Can't wait to see you on the inside.